October 9, 2013 in Food
Black Truffles In Switzerland
Although France and Italy are world renown for their famous White and Black Truffles, Switzerland also is a known location where the "Black Diamonds" can be found. The Tuber Uncinatum can be found in most regions of Switzerland and have an aroma that is extremely fine. There is another "Truffle" in Switzerland, but those are made by the Chocolatiers and Confectioner…
The Truffles are searched for between the months of October right through to the end of January.Many years ago a female pig was used to search for Truffles but usually once found, the Truffle became the pigs food, eaten before the handler could get to the prized delicacy.
Today, most Truffles are located with the help of a specially trained dog as canines have an extraordinary perception of smells and odors. It has been said that any dog breed can be taught to discover Truffles, but there are some breeds that excel over others. Most notably are the following breeds who are as well used for narcotics detection, bomb detection, agriculture detection, etc. The most famous "Truffle Dog" breed is the Lagotto Romagnolo a medium sized dog with a heavy coat of hair. Other breeds used to search for Truffles are Belgium Malinois and more common is the Hungarian Vizsla which is a very versatile hunting dog.
There is a website dedicated to "Hunting Black Truffles" in Switzerland which describes in words and images the birth and training of a female Vizsla puppy named "Tuli" and their search for Black Truffles..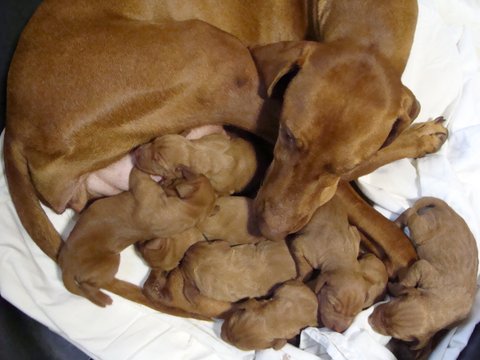 Also well known in Switzerland is the legendary "Truffle King" Fredy Balmer from the Canton Jura.
His first contact with truffles had been as an apprentice cook. Fredy Balmer has since then been involved with Black Treuffles , be it looking with his two dogs, Tomi & Zizou or in the manufacturing and preparation of homemade truffle delicacies.  Over 40 years Fredy Balmer has been enjoying his passion for the black diamonds.